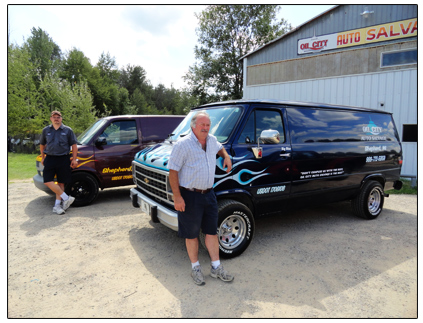 Here at Oil City Auto Salvage we do all the work for you! We have trained professionals to pull almost any part you will need. We have dismantlers inside and outside the building.
Our dismantlers inside the building pull engines, transmissions, and any other major component part you might need. We also have an on the spot dismantler who will pull exactly what you need while you wait in our air conditioned show room and enjoy our Dish Network programs.
We have a State Licensed mechanic on site. We will be glad to install our parts on your vehicle. The advantage of having us install our own parts is that we offer a full parts and labor warranty!
Menu: Home | Parts | Damage Codes | Cut Sheets | Used Cars | Services | Professional Services | Written Guarantee | Specific Warranties | Multiple Delivery Methods | Return Policy | Contact | Sitemap
About Us : Oil City Auto Salvage has a large inventory of on-hand car and truck parts. We stock many makes and models. Engines or body parts, panels or beds, tires or dashboards, we've got it, and much more! We want to be your one stop shop; this is why we now carry many popular demand aftermarket parts, and also many other new automotive related items. We've got everything from ladies pink auto emergency kits to portable vehicle vacuum cleaners. OIL CITY AUTO SALVAGE, SHEPHERD , Used Cars For Sale, , Used Car Dealer, , used cars, pre-owned and secondhand cars, MI, 48883. Finding used auto parts in Michigan ? Use our online search for parts!!
We SALE : : Used auto parts, alternators, starters, tires, fenders, body parts, wheels, engines, transmissions, salvage yards, used cars and trucks, bumpers, suspension parts, struts, spindles, windshields, auto glass.
We have created a part's look-up page for your convenience. Of course, if we do not show the part in our inventory just call the store and one of our sales professionals will be glad to find it for you. We are able to do this through our inventory management system which is linked to many salvage yards across The United States. Oil City Auto Salvage Shepherd Michigan
Copyright 2009 - 2016 Oil City Auto Salvage. // All Rights Reserved.